Published by
View From The Pier
in May 2011 is an inspiring interview with Sue Coppard, the founder of
WWOOF
conducted by Meg Pier
Sue Coppard is founder of WWOOF
, a worldwide network that serves as a conduit linking volunteers with organic farms. In return for volunteer help, WWOOF hosts offer volunteers food, accommodation and opportunities to learn about organic lifestyles. Created in 1971 and one of the world's first voluntourism organizations, WWOOF was borne out of Sue's desire to periodically escape her life as a London secretary and spend time in the countryside. Today WWOOF is a global movement, with over 50,000 volunteers working on 7,000-plus host farms in more than 100 countries.
I first learned about WWOOF from one of its host members and another "Peer to Pier" subject, Claudia Scholler, proprietor of Cortijo El Saltador, a traditional Andalucian farmhouse in the foothills of Spain's Sierra Alhamilla.
In getting acquainted with Sue I learned not only a great deal about organic practices but also got an education on a wide range of other areas–from the basic tenet of anthroposophical philosophy to the potentially huge and positive impact of simply following your own heart, and the wisdom of not needing to have all the answers before embarking on a new endeavor. Not to mention, I remembered all my own reasons for seeking adventure and being out-of-doors! I hope you enjoy this conversation with Sue.
This above all, – to thine own self be true;
And it must follow, as the night the day,
Thou canst not then be false to any man.

~William Shakespeare, 1564 – 1616
---
Meg: Can you explain what WWOOF is?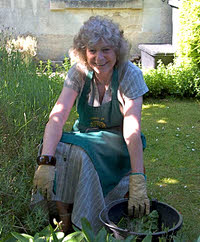 Sue:
WWOOF is an acronym standing for World Wide Opportunities On Organic Farms. It is a cooperative network, now worldwide, which offers members the opportunity to stay as working guests on a wide variety of organic farms, smallholdings, gardens and other rural enterprises. No money changes hands, it's an exchange. In return for your help on the land and with other tasks you receive bed and board, and a lot more besides: farming and agricultural experience – even training to change to a rural life; contact with nature and animals; access to beautiful countryside; good physical exercise; learning a host of other skills such as bread making, weaving, cheese making, bee keeping, cider making, or running a farmers' market stall; friendships with people from many different cultures and nationalities; and the chance to experience entirely different ways of life, regions, or even continents. The world is your oyster! Alternatively, you could visit the same WWOOF place regularly and get to know your own region throughout the seasons – leaving a considerably lighter carbon footprint!
On top of all this, you have the satisfaction of knowing you are helping the stalwart but not overwhelmingly-rewarded people who make up the Organic Movement around the world – which will surely be the salvation of the planet.
I wish to acknowledge the immensely hard and inspired work by so many WWOOF organisers which are responsible for WWOOF's extraordinary growth. Many countries now have their own WWOOF organization, all quite different as each is independently self-governing and has evolved in its own individual way. Those WWOOF Hosts in a country without a WWOOF organization belong to WWOOF Independents, an internet network.
Meg: Can you describe what led up to WWOOF's creation?
Sue: In 1971 when I started WWOOF I was secretary to the Textile Research Unit at the Royal College of Art in London.
---