St John's Southworth RC
in Nelson, East Lancashire, is an Eco School. The designer, Emma Palmer from Campbell Driver Partnership, has specified building materials which come from natural sources and is keen for the children to have an understanding of the construction process from beginning to end.
Children from St John's Southworth RC Primary School have been learning about the natural and thermally efficient building materials which are being used to build their new classrooms. Youngsters from the Lomeshaye Road school swapped the classroom for the construction site to see for themselves how their new extension is coming along.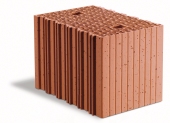 After having cut the sod, taken part in a health and safety briefing and designed their own safety posters for Accrington-based contractor Rosslee Construction, the children are now being introduced to the two main building components – Wienerberger's Porotherm thermal clay blocks and Second Nature's natural insulations, sheep's wool Thermafleece and Edenbloc recycled carpets.
---