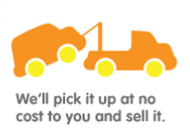 The New Year is traditionally
a time for get rid of some old ghosts in the closet and move on to pastures new.
So as we move into 2011, how about getting rid of your old banger whilst doing a good deed for the environment and also charity?
The social enterprise website Giveacar allows you to do just that. Scrapping a car can be traditionally very bad for the environment. Only around half of all decommissioned cars are treated at authorised treatment facilities (ATFs), where cars are disposed of the many pollutants associated with cars in a safe, secure and environmental manner.
However at Giveacar, depending on the vehicle's state of repair, it will either be disposed of in this way or sold at auction. Either way, the profits of the vehicle's sale will be donated to a charity of the vehicle owner's choice.
To find out more about Giveacar, please visit their website: www.giveacar.co.uk. They are able to collect any car, anywhere in the UK, at no cost to the donor. Over 250 charities are affiliated with the scheme.
---