Vitamins ARE essential for our well being and good health. This is the same with nutrients.
Our diet should be balanced, a mixture of vegetables, fruits, meet (not necessarily) and grain based products.
The best is what is grown within 500 km radius from where you live. But, as we know, not possible any more for many. However, we can follow simple rules i.e.
Eat what it would be grown near by
Listen to your body (what we like most is usually what makes most damages)
Eat when you are hungry
Eat to live, Not live to eat
Have your diet diversified
Follow diet related to your blood group
Our body has the mechanism to heal and the only think we HAVE to do is to Take Good Care of Ourselves. So, eat consciously and reasonably, do not worry, rest before you get tired, be happy and smile a lot

One problem with today's food is that it is mostly processed, mass-farmed with wide use of pesticides, herbicides, fertilizers, hormones, antibiotics and God knows what else, so it lacks the basic ingredients such as vitamins and nutrients but if full chemicals. The chemicals or radiation are used to preserve it in transport and further in food processing. Watch the video for wider insight.

Because of the lack of vitamins and nutrients we need extend our diet by using supplements. There is great variety of such products on the market and is not easy to choose the right one. Many available vitamins from pharmacies or drugstores are artificially made but you can also find those which are extracts from naturally grown food. Those are better choice and one of few providers is Vitamin Advisor.
What is the Vitamin Advisor?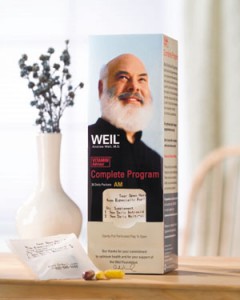 The Vitamin Advisor
is a health and lifestyle questionnaire that takes just ten minutes to complete. Created by Andrew Weil, M.D., and his science advisory team, it asks about your diet, lifestyle habits, age, gender, health concerns, medications and other factors that affect your nutrition needs.
When you click the "Submit" button, your answers are processed via our proprietary, physician-approved algorithms to determine the precise mix of supplements – in just the right dosages – to fit your unique nutritional requirements.
Then, this personal recommendation is presented to you, free, with no obligation. You may take it to the retail or online merchant of your choice. It can also be shared with nutritionists and other health professionals to assist you in meeting your health goals.
After you receive your Free Recommendation
, you will have the opportunity to fulfill your supplement needs with Weil Complete Program supplements. If you choose this option, your order, custom-packed with your unique supplement combination in 30 daily-dose packets, will be shipped right to your door. You may choose automatic billing and shipping each month for the period of your choice, to ensure maximum freshness and convenience.
Dr. Weil has personally directed the creation of these formulas to allow an exact match with his recommendations
, but he does not profit from their sales, and donates all of his after-tax profits from royalties from the sale of Weil Complete supplements directly to the Weil Foundation, a not-for-profit organization that supports integrative medicine through training, education and research.
Any questions about the program? Want to speak with an expert nutritionist? Just call (US) 800.585.5055.
Bonus Benefit! With each box of Weil Complete Program supplements,
you will receive the latest issue of Dr. Weil's Balanced Living newsletter.

---