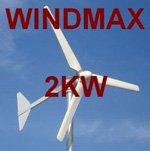 CE/ISO certified, efficient. Low start up wind speed at 4.47mph
Low cost proven systems deployed worldwide with good performance track records.
Mechanical furling over-speed control, hybrid wind/solar controller.
Includes generator, 3 blades/hub, tail, controller, generator-controller 50 foot cable, nose cone.
Product Description
2KW system is a low Torque
, low wind system, rated 2000w at 20 mph, start-up wind speed is 4.47 mph. Wind/Solar Hybrid Charge Controller is included to convert AC to DC. Charge controller can handle 2000w wind load and 600w solar load. Hybrid inverter also has built-in dump load function.
Hybrid controller has LCD display to show the charging current and battery voltage. Tower, Battery and inverter are not included, you can purchase tower, batteries and inverters separately. Inverter recommendations: We recommend UL listed inverters made by Xantrex or Outback. Please contact us for inverters, tower, Batteries.
Professional installation required.
No warranty for self-installation. Technical Specifications: Voltage: DC 48v Alternator: Direct drive, 3-Phase AC permanent magnet PMA Rated Power Output: 2000 watts Rated Speed: 400 RPM Rated Wind Speed: 9 m/s or 20 mph Start-up Wind Speed: 2 m/s or 4.47 mph Wind Blades: 3 blades per system Blade Material: Reinforced Fiber Glass Blade Diameter: 3.2 M (10.6 Feet) Minimum Tower Height: 8 Meters/26 Feet and up depending on siting area. Pipe Size: 5.5″ or more Diameter galvanized Steel Pipe. Recommended Batteries: 8 x 200AH 12V AGM batteries (2 of battery banks, each battery bank has 4 batteries in series). Over speed Control: Mechanical furling. We ship this product by ground freight to US 48 continental states only.
Note: This wind turbine is not recommended for higher than 30 mph wind speed, please use our HYenergy 2kw wind turbines for higher wind speed.
---