Eliminates 99-Percent of lead
Reduces chlorine, bad tastes and odors
Prevents bacteria growth in filter
Reduces sediment and water hardness
Each filter has a 40-Gallon capacity
Product Description
Brita Pitcher Replacement Filters are universally compatible with all Brita pitchers, including the compact Brita Slim Pitcher. Featuring a unique design that reduces the potentially harmful impurities and unpleasant flavors found in tap water, these filters offer you the nourishment of healthy, great tasting water with every glass. By using Brita Filters, which are now recyclable, you support the environment by cutting down on bottled water waste.
Enhance the Quality of Your Drinking Water
Brita Filters provide you the natural benefits of water by cutting down on unwanted substances. Specially engineered with an Ion Exchange Resin, these filters grab hold of impurities found in tap water like lead, copper, mercury, cadmium, and zinc to reduce their presence in your drinking water. The taste and odor of chlorine is decreased with a sponge-like filtration system, giving your water a clean, fresh taste every time.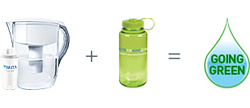 Refresh Your Body and Mind
The health benefits of water are wide-ranging. Water helps keep your skin glowing, your mind working, and your body moving by aiding in metabolism, detoxification, and the transport of nutrients to all organs. Brita appreciates the importance of water to human wellbeing and has created products that enhance the quality of your drinking water so you get the nourishment you need in a fresh, healthful way.
Brita Filters should be changed every 40 gallons or two months and are not intended for use with microbiologically unsafe water.
Reduce Waste and Help the Environment
Using Brita filters is an effective way to reduce waste. Each filter equals about 300 water bottles, many of which end up in landfills. Even better, Brita filters can now be recycled thanks to Preserve's Gimme 5 Program.
Brita Pitcher Replacement Filters are universally compatible with all Brita Pitchers, including Atlantis, Classic, Chrome, Deluxe, Grand, Riviera, Slim, and Space Saver pitcher models.
Each Brita filter helps reduce waste by substituting for an estimated 300 water bottles.

---