Durisol Making Green Building Cost-Effective
Light-weight, Insulated Concrete Form (ICF Blocks) made of mineralized waste wood chippings, mixed with 0-carbon cement and fly-ash and formed compressed into blocks which are waterproof, fireproof and are breathable while at the same time providing air-tight walls.
Those ICF blocks don't rot, they have highest thermal and acoustic properties in comparison to standard build walls without any additional layers of insulation. Because the construction process is fast (blocks are dry-stacked) and there is no need for cavity walls, no additional insulation or mortar and only 8 blocks are used per square meter saves time, money and the environment – this is a building material of now and of the future.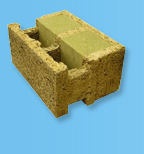 Durisol is a premium quality construction material that's recycled, renewable, and energy efficient. Trusted around the world for over 60 years, Durisol is the safe, reliable alternative to timber-frame construction.
I should mentioned that production of those block is far from random. Many systems are in place with automation and all aspects of manufacturing process happen in a highly controlled environment to maintain quality and unity. Every batch is marked and tested. It takes 28 days from the moment a block if formed to being ready for delivery but still Durisol has lead time of 4-6 weeks.
This is a solution for high quality, sustainable and affordable houses:
Made from 80% recycled wood, treated not to rot or burn
BRE Green Guide Rating of A
Exceeds Building Control requirements
4-hours fire-resistance certificate at 1100 C (cannot be burned)
Acoustic performance to 63dB
U values as low as 0.13W/m2K
Breathability yet air tightness
Low energy manufacture with low embedded energy
Lower build cost
Easily could be made self-sustainable
Low running costs – little energy is needed to keep it warm in the coldest winters and no energy to keep it cool in the summer
Doesn't rot or get mold.
Below is a picture illustrating unfinished yet the only house standing among remains after Hurricane Katrina hit in 2005. This was build from Durisol ICF blocks.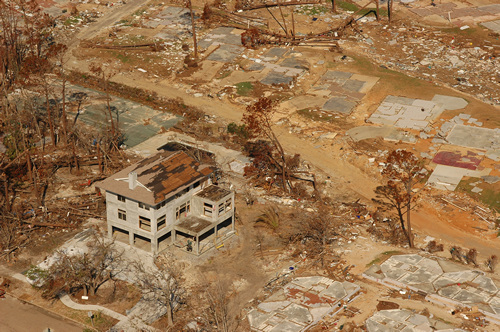 Picture courtesy: Third Line Homes.
Personally, I think those ICF Blocks are the most ecological, easiest to build with, light-weight and the strongest building material to date.
For the range of products visit Durisol website and if you would like more details or would consider building your new home with those ICF Blocks please do not hesitate to Contact Us.
ICF Blocks in Canada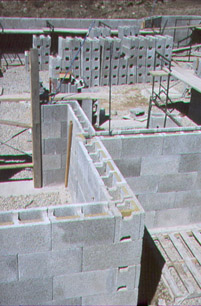 Thermal Durisol insulated concrete forms (ICF), incorporate mineral fibre (rock-wool), insulation that is also non-combustible and moisture resistant.
Thermal insulating mass effects are maximized by positioning the insulated material towards the exterior, resulting in additional insulating energy efficiency that is not possible with other insulated concrete forms.
True R values range between R-14 and R-28 for the thermal units. Be sure to ask for true steady-state R-values when comparing products and do not accept generic "Effective" R-values that are quoted by many manufacturers as this is will result in an inaccurate comparison of insulating values.
Thermal Performance details can be found here.